In my previous article I talked about things that you can do as actor during the covid-19 lockdown (click here for Part 1). There if, of course, more! Here are 5 more things you can do as an actor during the lockdown.
First and foremost:
1. Don't stay idle! And don't get lost in the covid-19 lockdown!
You are not helping yourself or others by sitting on your ass and flipping through pages and pages of confusing and scary news. It is tempting. Open Facebook and you'll be drawn into myriads of posts about the latest developments on the viral front. It is good to be informed, but choose your sources.
The internet is overwhelmed by fake news. In times of crisis it is really the most trusted news sources that you should follow.
The BBC is still not in corporate hands, so their information is more viable and trustworthy than, for example Fox News.
To me, CNN is less trustworthy than BBC, but it is still a good source for information.
Among the news sources that I deem reliable is definitely Aljazeera.
Deutsche Welle is also a reliable source of information.
Once you are done checking up on the news, here is what you can do as an actor to keep a healthy and safe mind!
2. Create your actors website during the Covid-19 Lockdown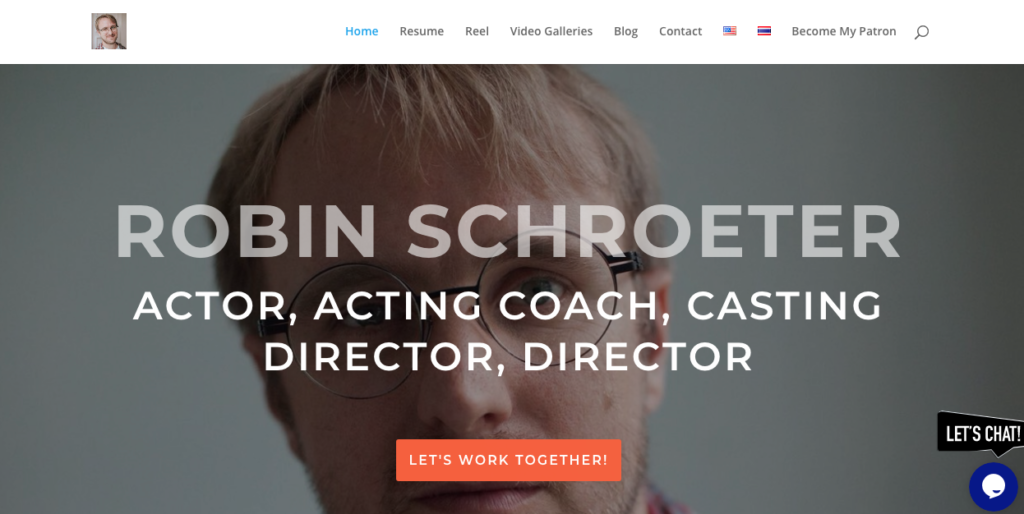 A lot of my students have been thinking about creating their own website. Now is a good time! As social distancing is ever so present in our lives, you will have time to finally get that project started – and maybe even finish it.
Nowadays you don't need to be a programmer or expert to create your own website. There are plenty of choices to get you started.
The most convenient platform with a lot of plugins and options to chose from is probably wix.com. Wix.com is basically plug and play for websites. You can go ahead, chose your template, upload your pictures and material as you please. I have tried it and within minutes I was able to create a website for my dad. It is really that simple. Alas, if you want your own url instead of having wix.com/robinschroeter (which doesn't look professional), you will have to opt for their monthly or yearly payment packages.
WordPress is more advanced. You need a little bit more knowledge or it will take you a bit longer to get a hang of it. You will have to get an independent server like hostgator.com Creating your website with WordPress will be cheaper in the long-run but you need to invest more time into getting acquainted with the system.
P.S.  If you need help creating your website feel free to contact me: robin@masterclass-studio.com
3. Create your reel during the Covid-19 Lockdown
This is probably the perfect time to finally gather all of your material together and start creating your own acting / stunt / commercial reel. It takes time to get all of your material together.
Find your material
You have to know the name of the brand / movie that you worked on and where it was aired. Search on YouTube or Google for the specific country / region / product. You also need to know when it was aired.
Download your material
Once you found it there are plenty of applications / websites / extensions to download your video material from a website or YouTube.
Edit your material
Finally, once you have found all of your material you can start to edit it. Movie maker in Windows, iMovie on a mac or VideoShow on your phone are simple applications that can do the trick.
P.S. Again,I can help you here, if you have any questions… 🙂
4. Subscribe to websites + 5. Send your profile to Agents
Before you contact international agents and casting directors, you need to make sure that your profile is interesting to them. You need a good, solid, if not outstanding reel. You need good, solid, if not outstanding headshots to promote yourself. How can you expect them to take you seriously in a mega competitive environment if your profile is not up to standards. Work on your reel. Get good headshots. And have a resume ready that leaves no doubt on who you are.
When you go for international jobs, you have one shot. If they don't like your first email, they won't bother to open your second one.
When I first searched for jobs internationally, I signed up for Spotlight.com. It is a good resource for castings in movies and/or commercials, most of them being filmed either in the UK or in Europe. If you don't have an agent in the UK you can still sign up and submit your profile to castings. Most castings will be on site in London, but there are some that allow e-castings as well.
I found Spotlight.com helpful to get an idea about international standard rates for acting jobs and to see what is out there in the market.
Once you sign up you also have access to a list of agents in the UK. Some of which are run by actors themselves. You have to give some to get some, so they would require you to do some communal / administrative work in exchange for being part of their agency.
Was recommended to me by a casting director in Thailand. Personally, I found the system confusing. There are jobs being posted worldwide, but the search function is not optimal. There are a lot of jobs there that allow e-castings and are non-union jobs.
My personal favorite, as a german. I found several agents through their system, that are still sending me jobs until this day. The two most useful functions there are the job posts, through which I received my first gig in Germany, and the list of agents and casting directors, whom I contacted all. Thanks to this website I have agents in Germany working for me.
There will be similar website in your home country as well. Look for them! If you find one in your home country that is useful, please let me know and I will add it here!
Remember, when you go international, you have one shot. So make this shot count!
I will be back soon with more things to do during the Covid-19 Lockdown.